Falsehoods not Facts: Emergency Use Authorisation
Recently Pandemic Data Analysis (PANDA) has started spreading "infobites" under the heading "Facts Not Fear". Here I address these and show how they are misrepresenting facts.  Number 10/13 addresses Emergency Use Authorisation (EUA)  of COVID-19 vaccines.
Before we start off with discussing EUA the first point to note is that the first vaccines are being unconditionally approved.  Pfizer' s vaccine has been fully approved by the FDA in the US.  So, for Pfizer, the whole discussion of EUA is irrelevant.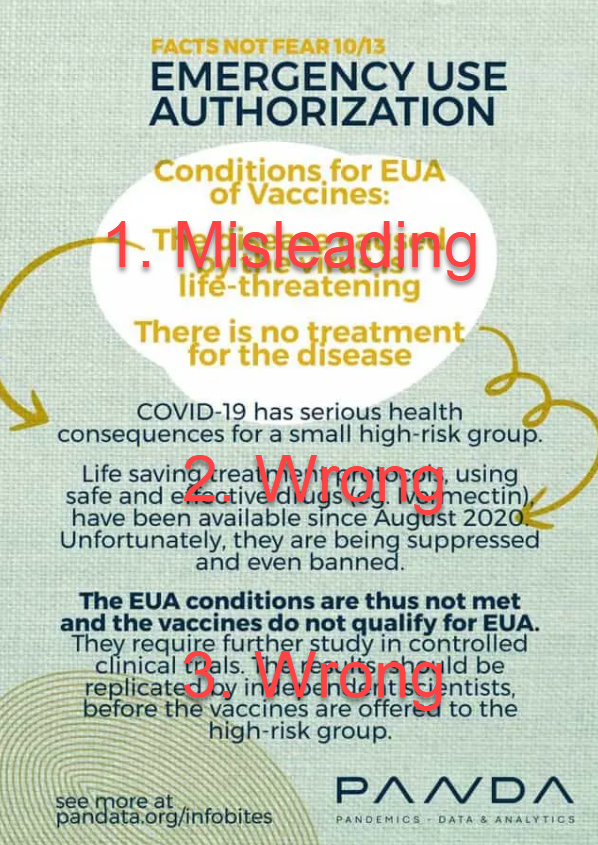 Claim 1
PANDA claims this:
Conditions for EUA of Vaccines:
1. The disease caused by the virus is life-threatening
2. There is no treatment for the disease
The refer to a document released by the following:
U.S. Department of Health and Human Services
Food and Drug Administration
Center for Biologics Evaluation and Research
These are governmental bodies in the United States and do not regulate vaccines outside the United States.  These are not relevant for the rest of the world.  Let's look at their requirements anyway.  The full version is this:
The chemical, biological, radiological, or nuclear (CBRN) agent referred to in the March 27, 2020 EUA declaration by the Secretary of HHS (SARS-CoV-2) can cause a serious or life-threatening disease or condition.
Based on the totality of scientific evidence available, including data from adequate and well-controlled trials, if available, it is reasonable to believe that the product may be effective to prevent, diagnose, or treat such serious or life-threatening disease or condition that can be caused by SARS-CoV-2.
The known and potential benefits of the product, when used to diagnose, prevent, or treat the identified serious or life-threatening disease or condition, outweigh the known and potential risks of the product.
There is no adequate, approved, and available alternative to the product for diagnosing, preventing, or treating the disease or condition.
PANDA leaves out points 2 and 3.  These points establish that the vaccines have to be evidenced to be effective and safe to receive EUA.
Claim 2
Firstly PANDA claims that:
COVID-19 has serious health consequences for a small high-risk group.
They do not provide evidence for that and as already established COVID-19 kills many people across age ranges, and in varying degree of health.  Identifying this "high-risk group" is not possible and PANDA does not identify it either. Everyone is at risk. Furthermore the disease spreads as well.  So even if you have milder COVID-19 you can still infect others.
PANDA goes on:
Life saving treatment protocols, using safe and effective drugs (eg. Ivermectin), have been available since August 2020. Unfortunately, they are being suppressed and even banned.
They refer to a paper on these protocols.  PANDA refers to this paper in other "infobites"  too but this is the first one where it may be relevant. The paper is from August 2020 (again a little dated given how rapid research is evolving).
This is not evidence for a particular treatment protocol.  From the abstract:
The rapid spread of the virus has "has hampered the design and execution of definitive randomized, controlled trials of therapy outside of the clinic or hospital".
"In the absence of clinical trial results, physicians must use what has been learned about the pathophysiology of SARS-CoV-2 infection in determining early outpatient treatment of the illness with the aim of preventing hospitalization or death."   They go on to list these principles.
They then state that "future randomized trials testing the principles and agents discussed will undoubtedly refine and clarify their individual roles".
I interpret the above as saying that we don' t have much data yet, so we must go on to first principles when thinking about treatment outside the hospital. Future randomised trials will give us the data we need to understand and improve upon this.  Basically this: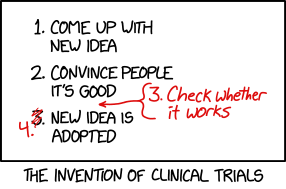 The paper does list various treatment including hydroxychloroquine (but not ivermectin). However, given the above framing of the paper it should be clear that once evidence is collected these treatments may need to be revised. The WHO sets out why hydroxychloroquine is not used in treatment of COVID-19 and why it was stopped in a trial:
Data from Solidarity (including the French Discovery trial data) and the recently announced results from the UK's Recovery trial both showed that hydroxychloroquine does not result in the reduction of mortality of hospitalised COVID-19 patients, when compared with standard of care.
Ivermectin has not been approved by SAHPRA (South African regulator) or the FDA (US regulator)  for treatment of COVID-19.  The FDA tweeted about it:
Much of the research behind ivermectin has been lacking with papers being withdrawn and/or the data behind the studies found to be manipulated or faked. Gideon Meyerowitz-Katz has done a brilliant 5-part series on the all the fraud he has found in ivermectin studies ( Part 1, Part 2, Part 3, Part 4, & Part 5).  Part 5 concludes that:
While it is plausible that ivermectin has some use against Covid-19, the staggering scale of the fraud has made it almost impossible to say anything for certain, except that people rarely fake trials for effective drugs.
There are proper guidelines on managing COVID-19 that are up to date.  For example this is issued by the National Institute of Health in the US or this by the NICD.  
Claim 3
PANDA then summarises:
The EUA conditions are thus not met and the vaccines do not qualify for EUA. They require further study in controlled clinical trials. The results  should be replicated by independent scientists, before the vaccines are offered to the high-risk group.
Based on the above this is clearly wrong.  
COVID-19 is a serious or life-threatening disease or condition.
Vaccines are safe with vary rare serious side-effects.
Prevention is still better than treatment.